by Dr. Noel Peterson, ND, DAAPM
Photoaging has wreaked havoc on just about everyone's skin, but especially on those who relish the out of doors. Imagine if you could reverse the damage to your skin caused by years of sun exposure? When we combine two collagen building procedures, microneedling and PRP, our skin can rebuild lost collagen quickly, and the results will last for years. Want to restore a youthful glow? Want to restore your lost collagen and eliminate fine lines and scarring? PRP and microneedling can do all of that and more.
What is Photoaging?
Photoaging is the medical term used to describe damage caused by sun and other UV exposure on our skin. Collagen induction therapy is is the process of rebuilding lost collagen. Our face, hands, and décolletage are exposed to the sun more than any other area of our body. As a result, these areas are subjected to cumulative damage of photoaging. Fine lines, wrinkles, collagen loss and thinning of the skin are all consequences.
How does collagen induction therapy with PRP microneedling reverse photoaging of the skin?
Collagen induction therapy with PRP enhances the benefits of microneedling by restoring the lattice network of elastin and collagen found in young, normal skin. Treatment enhances collagen density and results in elimination of fine lines, shallow wrinkles, improvement in firmness and smoothness, e filling of scar defects, and reversal of photoaging.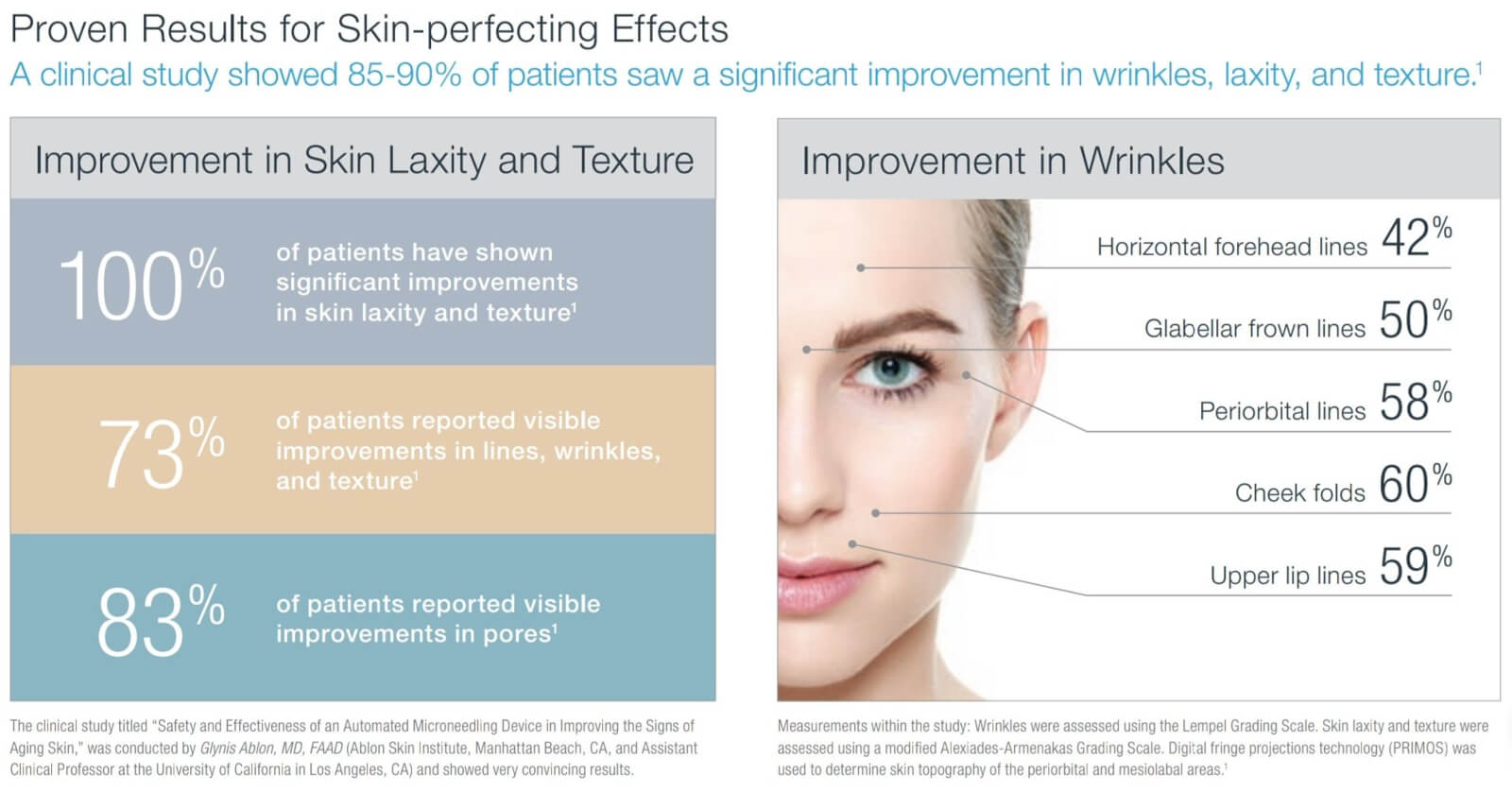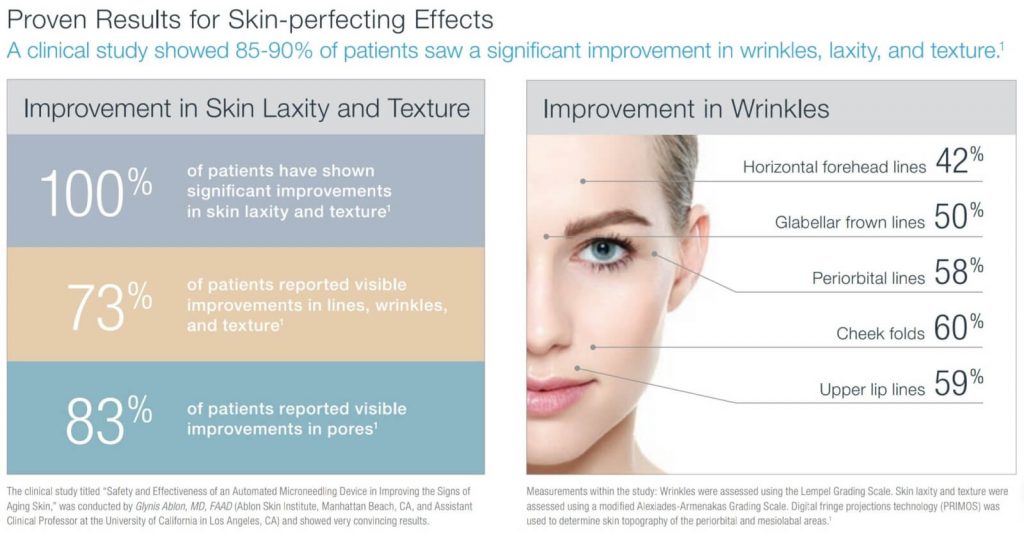 Why is PRP microneedling the best option?
Techniques such as CO2 laser ablation, deep chemical peels, and fractionated laser techniques work by damaging or causing the destruction of the epidermis. This leads to changes in the dermis and production of new collagen and skin. There is, however, a cost to such invasive procedures: ablative techniques produce thicker bundles of scar collagen rather than the lattice network of collagen found in normal skin. Additionally, ablative procedures can cause the skin to become more sensitive to photodamage, hyperpigmentation and increased risk of post-procedural complications. PRP microneedling does not cause hyperpigmentation.1–7


The EXCEED Advantage: Clinically Proven
At Oregon Regenerative Medicine, we use the precision German EXCEED device to drive PRP deep into the dermis and further enhance the benefits of microneedling. PRP microneedling has been shown to not only improve skin regeneration, but to protect the skin from further photoaging. (8, 9)
Only the EXCEED microneedling device has been approved by the FDA for treatment of acne scarring. But its value goes beyond the elimination of acne scarring into improved overall skin appearance and vitality.
To assess EXCEEDs value in skin laxity, skin texture, and global wrinkle scores, 49 subjects underwent 4 microneedling treatments at 30-day intervals. All subjects experienced significant improvement in all skin parameters. The epidermis remained structurally intact during PCI treatment with the study device, with no damage occurring to the basal membrane. There were no recorded incidents of hyperpigmentation, transient or otherwise, making the EXCEED the preferred method of collagen induction for people of darker complexion. (10)
What about that thinning of the skin on the back of the hands?
PRP is also an effective treatment for loss of collagen on the back of the hands. In this procedure an anesthetic is applied to the skin, followed by small needle injection of collage-inducing PRP. This results in thickened, more supple and healthy skin on the back of the hands. If you want to enjoy the health benefits of sun exposure without photoaging, and if you want firmer, smoother, more elastic skin, PRP microneedling is the natural solution.
Sources
Dover JS, Hruza GJ. Laser skin resurfacing. Semin Cutan Med Surg. 1996;15(3):177-188. doi:10.1016/s1085-5629(96)80009-5
Fulton JE, Porumb S. Chemical peels: their place within the range of resurfacing techniques. Am J Clin Dermatol. 2004;5(3):179-187. doi:10.2165/00128071-200405030-00006
Atkins D, Frodel J. Skin rejuvenation in facial surgery. Facial Plast Surg. 2006;22(2):129-139. doi:10.1055/s-2006-947719
Gold M H (ed). Update on fractional laser technology. J Clin Aesthet Dermatol. 2010;3(1):42-50. Accessed July 14.2020. https://pubmed.ncbi.nlm.nih.gov/20725538/
Bernstein LJ, Kauvar AN, Grossman MC, Geronemus RG. The short- and long-term side effects of carbon dioxide laser resurfacing. Dermatol Surg. 1997;23(7):519-525. doi:10.1111/j.1524-4725.1997.tb00677.x
Kauvar AN, Geronemus RG. Histology of laser resurfacing. Dermatol Clin. 1997;15(3):459-467. doi:10.1016/s0733-8635(05)70454-x
Laws RA, Finley EM, McCollough ML, Grabski WJ. Alabaster skin after carbon dioxide laser resurfacing with histologic correlation. Dermatol Surg. 1998;24(6):633-636. doi:10.1111/j.1524-4725.1998.tb04220.x
Anitua E, Pino A, Orive G. Plasma Rich in Growth Factors Inhibits Ultraviolet B Induced Photoageing of the Skin in Human Dermal Fibroblast Culture. Curr Pharm Biotechnol. 2016;17(12):1068-1078. doi:10.2174/1389201017666160709200920
Chawla S. Split Face Comparative Study of Microneedling with PRP Versus Microneedling with Vitamin C in Treating Atrophic Post Acne Scars [published correction appears in J Cutan Aesthet Surg. 2015 Jan-Mar;8(1):75]. J Cutan Aesthet Surg. 2014;7(4):209-212. doi:10.4103/0974-2077.150742
Ablon G. Safety and Effectiveness of an Automated Microneedling Device in Improving the Signs of Aging Skin. J Clin Aesthet Dermatol. 2018;11(8):29-34. Accessed July 14.2020. https://www.ncbi.nlm.nih.gov/pmc/articles/PMC6122507/