COVID-19 testing now available at Oregon Regenerative Medicine
How to Schedule:
Call us at 503-636-2734 to set up a brief telemedicine visit. If COVID-19 testing is indicated, we will let you know which test is best for you along with any other necessary measures. 
We will call you to schedule testing following your phone appointment.
What tests are available at ORM?
There are two ways to test for COVID-19:
IgG Antibody testing by serology (through Quest Diagnostics) detects whether an individual has developed an immune response to the virus that causes COVID-19, but does not tell us if they have an active infection. Current research indicates that the novel coronavirus has been present in the US for much longer than originally thought (since early February) and that many infected persons have been asymptomatic. Paired with the lack of widespread testing, there is uncertainty about the true incidence of the disease, which impacts both personal and public health.
Antibody testing can be useful when:
You have been exposed to the virus up to this point, regardless of whether you've had any symptoms.
You've had previously unexplained symptoms and want to know if they were caused by COVID-19.
You'd like to know if you may have potential protection against COVID-19 moving forward.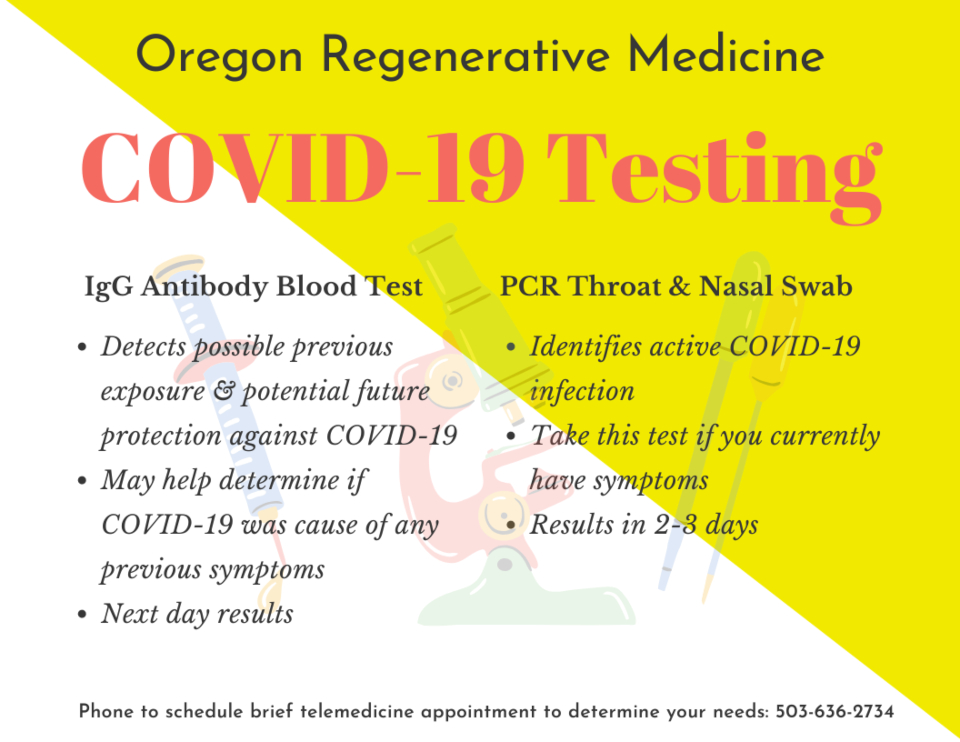 However, there are some limitations to antibody testing:
The IgG antibodies take 7-10 days to develop after exposure to the virus, so a recent exposure or early active case may not be reflected in the test result.
The presence of IgG antibodies does not guarantee immunity.We do not know if the presence of antibodies means that you are protected from future infection or whether you have fully cleared the virus.
Beware, this test from Quest Diagnostics has been proven to be accurate, whereas the majority of antibody tests marketed for COVID-19 have been shown to be bogus.
2) The PCR (polymerase chain reaction) test is the current standard for symptomatic patients. It detects viral RNA, obtained by nose and throat swabs, which reveal whether you have an active case. Patients with symptoms of cough, fever, runny nose, difficulty breathing and deep fatigue should be tested by PCR to determine if they have an active case.
The recommendations for social distancing, masks, and hand washing remain essential and will not change based on our ability to test. Your test results however, give you more information and insight into where you, as an individual, stand within this current pandemic. More information is useful for yourself and for our collective public health.
Phone us to schedule a phone consult and any needed testing: 503-636-2734