A hip steroid injection is a common procedure to alleviate pain. But what is often not disclosed is the rapid progression of arthritis that occurs after steroid injection. In a 2019 study1 from the Journal of the Radiology Society of North America (RSNA), doctors at Boston University School of Medicine report on a 61-year-old woman with hip pain who developed rapidly progressive osteoarthritis and total joint space destruction after a steroid injection. In the following xray and MRI images, the rapid loss of joint integrity is obvious, even to the untrained eye: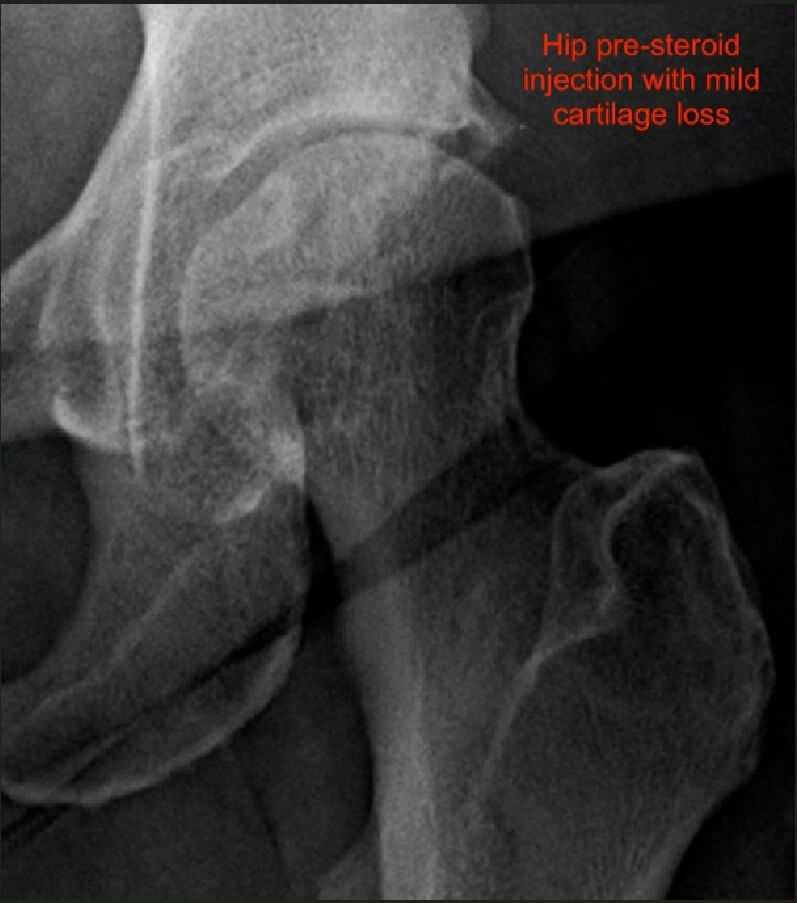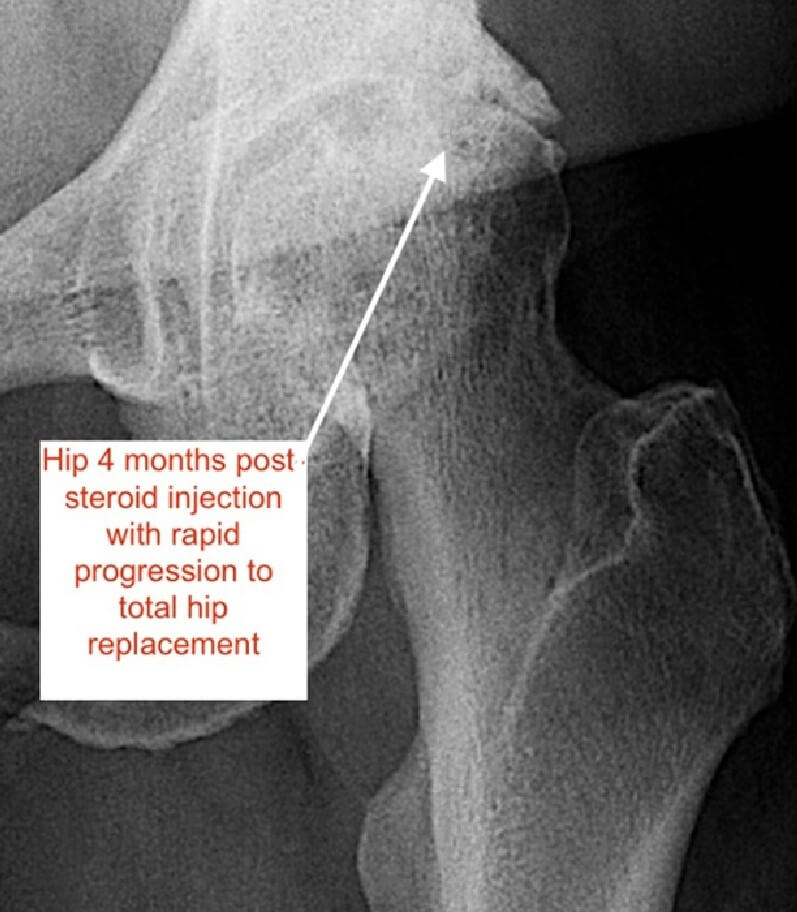 Four months after receiving a hip steroid injection, she returned with an extermely worsened hip. Subchondral Cysts within the bone underlying the cartilage had increased and the interval joint space had severely shrunk on the hip radiograph. (see arrowhead)
An MRI taken concurrently reveals subchondral cystic alterations and total loss of acetabular and femoral cartilage (arrowheads, black arrows). Additionally, there is periarticular soft-tissue edema, synovitis, and joint effusion (white arrows).
This patient went on to getting a total hip replacement 3 months later. Unfortunately, effective and safe regenerative injection therapy for hip disorders2 was not offered to this patient, even though studies have shown up to a 90% response rate3 to the combination of PRP and stem cells for steroid induced osteonecrosis of the hip.
This finding is nothing new. Multiple researchers in multiple journals report similar findings on hip steroid injections4. When will doctors stop this destructive practice?
If you are offered a hip steroid injection for pain, run or walk away while you still can. Keep your hip, reject steroids. At Oregon Regenerative Medicine, our skilled doctors can tell you if regenerative injection therapy with Platelet rich plasma or autologous stem cells is right for you.
---
Dr. Noel Peterson, ND, DAAPM, is the founder and medical director of Oregon Regenerative Medicine.

---
Sources